July 4, 2014 - Written by: Yazmin Joy
Street art really brings me a lil joy! Since moving to Turnpike Lane, I have been truly inspired by the awesome artwork all around the local area.
'The purpose of art is washing the dust of daily life off our souls' – Pablo Picasso.
'Who is responsible for these visual delights!?' I would exclaim to my housemates as I returned home from my urban expeditions.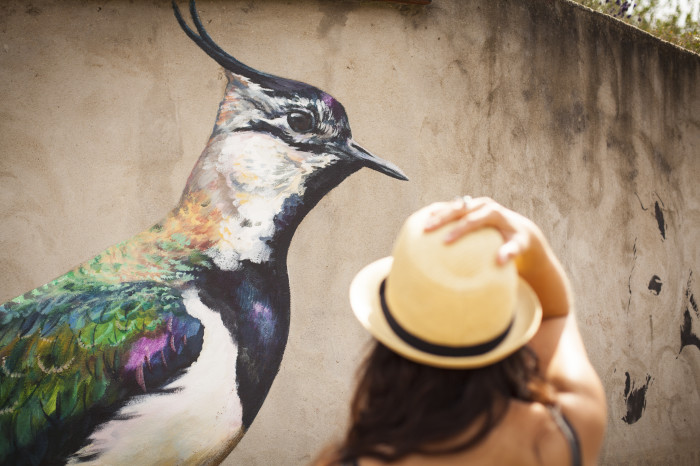 Then, on one very ordinary sunny Sunday, I bumped into the lovely people from the Turnpike Art Group, the organisation behind all the creativity. (Huzzaaah!) I asked if they would do a lil' interview, they agreed. So here you have it…
So what's TAG's Mission?
We aim to break down the gallery walls, and present an ongoing 'free art experience', whilst changing the urban landscape, and the lives of its residents, through the introduction of visually appealing and stimulating art and design.
We champion heritage, cultural development, and the natural world.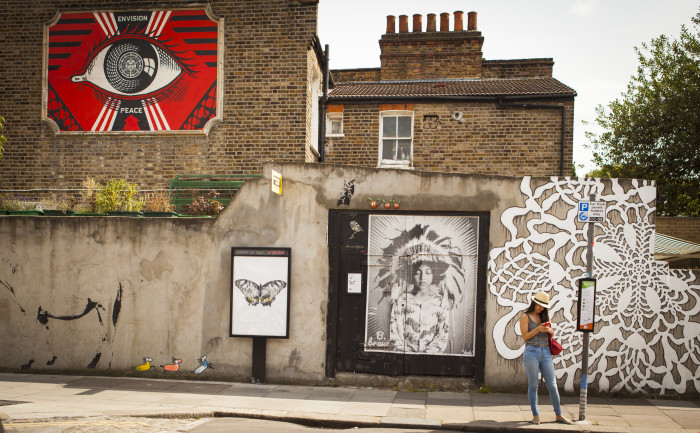 For someone who knows nothing about street art, can you tell us what this medium is all about? 
You could say street art represents the first genuinely innovative art movement since Pop Art in the 1960s.
It can be many things, depicting diverse context – ranging from provocative political messaging to simple visual embellishment using nature or satirical humour. Likewise, the actual application itself has many forms – simple paste-up mono prints, enormous multi-layered hand-sprayed murals, three-dimensional craft pieces; the scale and invention is compelling.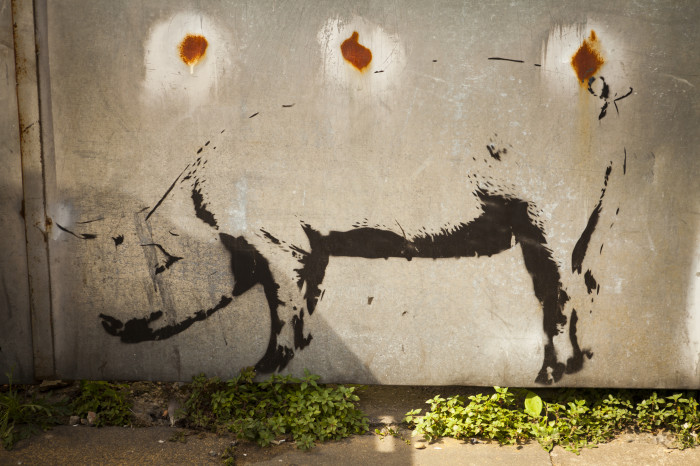 (Artist: Stewy)
To be clear – street art is NOT graffiti, per se. And like all significant art forms, the best examples are always borne out of a deeper understanding of the human condition, and a desire to push our understanding of ourselves.
Why street art in Turnpike Lane? 
Having lived in the area for over 20 years, we were confident that there was scope to selectively embellish the landscape. Historically, Turnpike Lane was quite literally a gateway, with a continual flow of human traffic. That still exists today, with a very rich and vibrant confluence of fixed and passing residents. 
(Art: Positive Emotion Artist: NeSpoon)
You have worked with globally renowned urban artists (including American artist Shepard Fairey) at TAG. Why do you think international artists have been drawn to this project?
We were hugely grateful to Shepard Fairey for creating our inaugural street art intervention. Not a bad way to get the ball rolling!
For many artists we present a fresh locality – with the world-renowned urban art hubs of Brick Lane and Shoreditch now over-saturated, we could provide an alternative, community-focused proposition.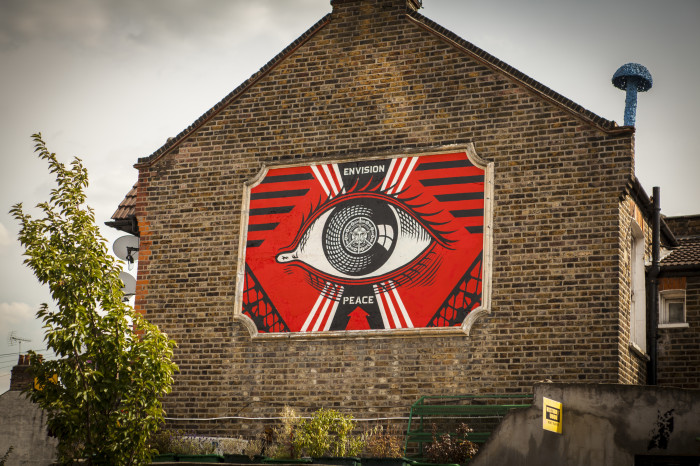 (Art: Envision Peace Artist: Shepard Fairey)
Perhaps it is also that we can create the unexpected – not many London back streets can be both cutting edge, urban trendy and at the same time traditional suburb. So with street art flourishing here, others are more inclined to understand what Fairey saw within our walls.
That said, we have always pushed to promote local talent. And we feel it is imperative that we mix the established with the new.
How do these collaborations come about?
TAG: The simple answer is: we ask. It is worth mentioning that the artists who come to us, and spend time and resources creating beautiful artworks, have by-and-large done so for free. With the cost to travel in to central London rising, and gallery prices reaching ridiculous levels, having a small urban gallery, built and providing gratis enjoyment… it's a rare thing. So we should embrace the generosity of these artists.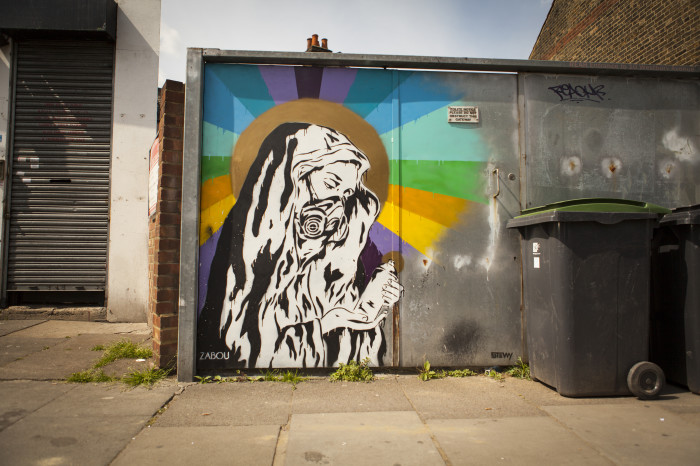 (Art: Alleluia 2 Artist: Zabou)
What would your advice be to a person wanting to partake in street art? (Are there any guidelines or rules they would need to be aware of)?
Do your homework. Street art presents a paradox. Ostensibly, it thrives on being an illicit, forbidden activity. Yet, as with many great art movements, with progress and time comes refinement and tangents.
The art TAG places seeks to arrive at a consensus of agreement before it is placed. So we advocate education and dialogue as a first step. Rushing out and randomly placing unrefined mark-making ultimately creates a negative for all concerned.
Our advice to anyone looking to partake in street art would be to take time to find your 'voice', and take it to locations such as Brick Lane and Shoreditch; refine your craft, then wait for opportunities to come along.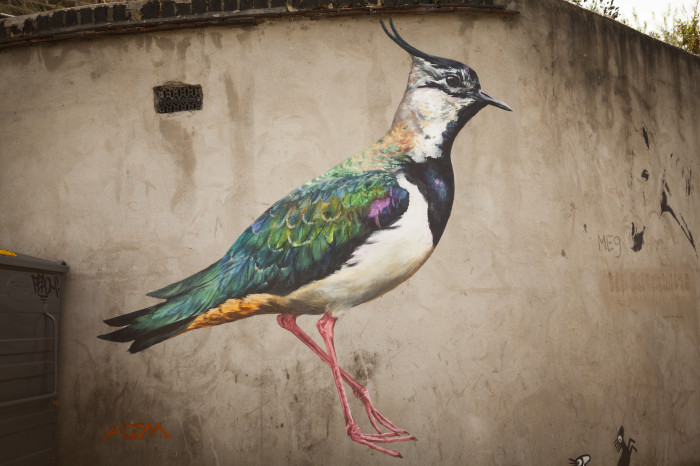 (Art: The Lapwing Artist: ATM)
You often work with existing communities and local businesses (I'm thinking the Turnpike Cafeteria and Chinese Community Centre), how is this significant to achieving your mission?
Working with businesses and building owners is a crucial aspect of what we do. From local initiatives like Cafeteria, our Chinese Community Centre, to large corporates such as Virgin Media, we found an appreciative, open-minded reaction to the projects we proposed. And, with the owner of our local Turnpike Stores, generosity of immeasurable scale. UK Power Networks are another example. Our Palace Gates project was so warmly received that another, much more ambitious artwork, is now in the pipeline, with their blessing.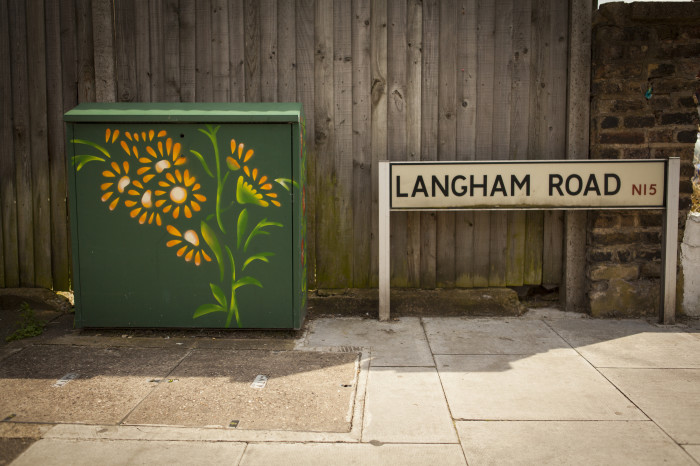 (Flower Boxes – Artist: TAG/VW)
How do you feel street art impacts community?
Our project with the Chinese Community Centre is a good example – we created a cultural artwork, which formed a bridge between differing aspects of our community. On the final day of painting, we invited every passer by to help paint red petals on the tree branches. So this is very much an installation created by and for the people. The message and symbolism is extremely positive.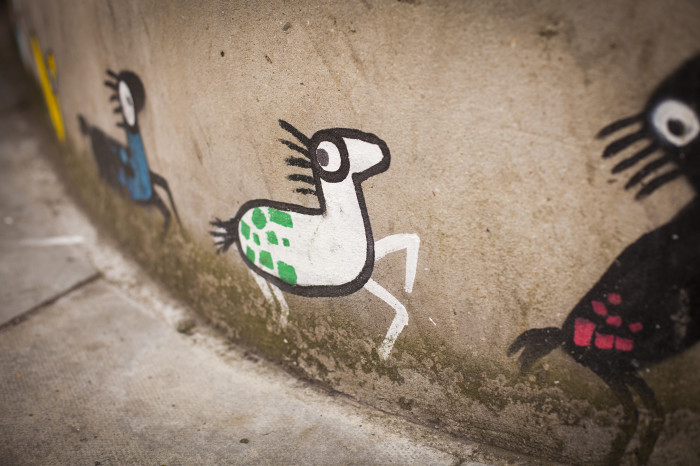 (Artist: Art is Tra$h)
Well-placed, sympathetic street art can knit a community with a sense of belonging. We can create pockets of uniqueness. We can make the day-to-day journeys of its residents fun, cheerful, and engaging. And with our penchant for championing the natural world, we can engage the young with the streets where they live. There's a surprising amount of petting that our various animals have received!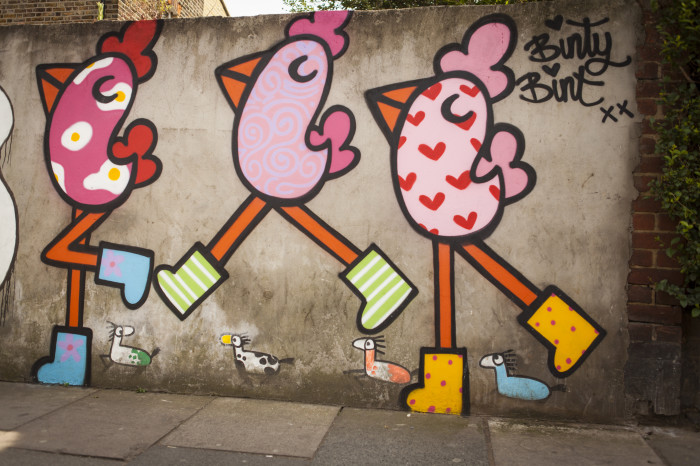 (Art: Three Cool Chicks Artist: Binty Bint)
In addition, TAG do a lot of invisible work – keeping our streets clean, free from dumped items, and keeping the many plants under control. So although you may just see the 'glamorous' street art pieces, there is much background hard work carried out on the streets that our art sits within.
Why does art matter?
Try imagining life without it.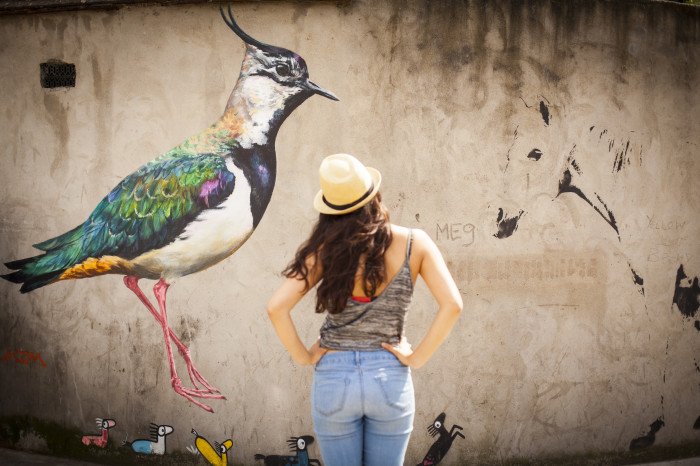 What brings TAG a lil joy?
When people passing through stop, and simply say: 'Thank you'.
If you folks want to find out more about Turnpike Art Group check out their website by clicking here.
All the photos featured in this article were taken by our aliljoy homegirl Samia Meah. Twitter: @Samia_Meah 
---
---
Tags: Joy London Shephard Fairey Street Art Turnpike Art Group

Categories: a little piece of joy EXCLUSIVE: Interview London's Hidden Gems Yazmin Joy