March 6, 2015 - Written by: Shiraz Engineer
My body really is my best friend. It helps me automatically calculate the distance of an oncoming car, deals with whatever crap I chuck down my throat, and even once gave me my period early because it knew I was worried. My body really looks after me. You could even say it has my back *giggles at own pun* I owe my beautiful body a lot.
But there is one problem. My boyfriend tells me I don't treat myself enough. But the truth is, I do treat myself! Too much, in fact. Let's just say, with perhaps too much fried chicken than is healthy…
I tell myself I'm young, I'm spry, I can handle it. However, I'm getting increasingly aware that as I'm getting older, my body will become slower, feel heavier and therefore my brain will work less well. With each passing year, my getting-out-of-a-chair 'Oof' gets louder. So this means I have to start treating it with more respect.
For me, this boils down to two main things:
1. Eating well.
I have to start cooking more so I'm eating fresher, healthier food. I'm getting better at this – it does mean I'm visiting supermarkets around 3 times a week, but at least I'm getting excited about cooking again. I recently spent some time leafing through my cookbooks and marking all the great recipes that are so easy yet look so scrumptious, I cannot wait to try them out. Lorraine Pascale, you goddess!
When you eat better, you feel better. It makes a big difference. Cooking is also a great way to wind down at the end of a working day, especially if you have time on your hands. My body will definitely thank me.
2. Exercising more.
I dislike gyms. How you have to go through a labyrinthine network of doors to get to the changing room, change or put your stuff in a locker, and then walk out into a room of frantic people who are all moving but going nowhere. You then have to dodge the prying, muscly eyes as you walk from machine to yoga mat and back again, trying not to think about how awful you look, and entertaining yourself with thoughts of what you're going to eat when you get out of this sweaty fug box and into the fresh air again. No, this is not for me.
But I absolutely love running. I step out of the door, hit PLAY on my Running Woman playlist and off I go, speeding past strangers. It's tiring, it hurts all over, sometimes I feel as if I'm going to die of exhaustion – but I push and push and when I finally come to a stop and catch my breath, I feel on top of the world.
I love running because it makes me feel like a child again, young and full of life. If I need a booster, I look down at my London 2012 Team GB t-shirt and feel the roar of the lion inside my chest, spurred on by Mo Farah and Jessica Ennis. They are the reason I started running and they keep my feet pounding on the pavement.
But the biggest reason I like to run is because it makes me feel like me. My favourite line from Baz Lurhmann's 'Sunscreen', originally penned by Kurt Vonnegut, always inspires me: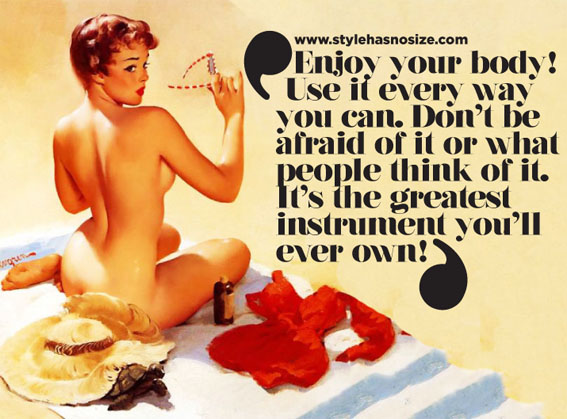 (Image via)
I can be as scruffy as I like – no make-up, hairy legs, sweating like a pig and smelling like one too, but I feel incredible. I don't judge myself when I run, I'm only concentrating on the music and the way my body is rising to the challenge.
My body really is the greatest instrument I will ever own, so I must take advantage of its potential. Personally, that potential is measured by how far I can run. I am constantly in awe of ordinary people who have the discipline to run whole marathons, something that seems physiologically impossible at first glance.
Now, I'm not great – I have yet to run 5k without feeling as if I'm about to collapse. But what I do want to do is start pushing myself to run more often. Because when I get to the end of my life, when I'm old, frail and using a Zimmer frame, I want to look back and be proud of how I kept myself fit and full of energy for as long as possible, just like my own grandfather who was a bodybuilder in his twenties. Although I don't think I'll ever quite make it to Mr Karachi 1948 standard…
Sound body leads to a sound mind, which is why feeding and exercising my body correctly will have a huge effect on my mental wellbeing. All I have to do is work on getting out of bed slightly earlier on the weekend! And that is half the battle.
If you enjoyed this post, why not check out 'Gaining weight can be good too, you know!'? 
---
---
Tags: #likeagirl #ThisGirlCan Eating exercise fitness Health inspiration running success

Categories: Empowerment: Man! I feel Like a Woman! Mirror Mirror: Self Improvement