March 30, 2016 - Written by: Cas Sutherland
What a month this Women's History Month has been! Living in China, it's often easy to feel some level of disconnect from the fourth wave feminism of London or New York, but this month in Beijing has reminded me that women all over the world are fighting for the same thing: equality.
Just because they don't get to vote for their government, or don't have the economic stability you do, or don't have access to the same resources we take for granted, doesn't mean those women don't fight for their rights just like you. In fact, you might be surprised at how far they'll go to get what they want.
Here are four Chinese women who have inspired me this month, and the overriding messages they're sending, as they each make their individual contributions to changing China for future women.
Determination: Lijia Zhang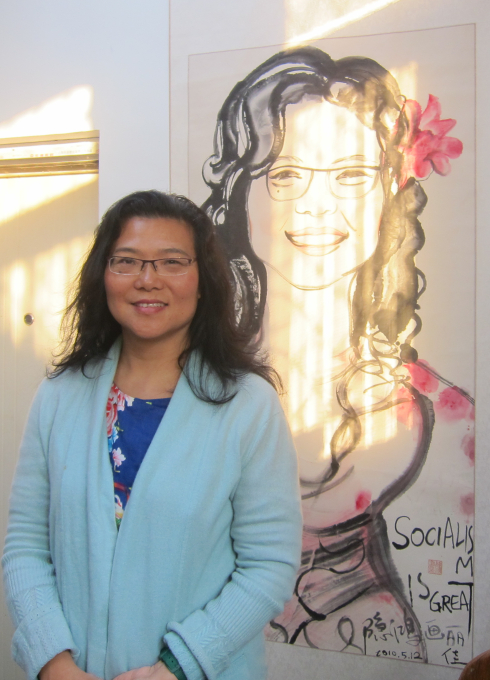 (Image via)
Lijia Zhang, 51, burst onto the global literary scene in 2008 with her first book, Socialism is Great! A Workers Memoir of the New China, the story of her rebellious journey from life as a disillusioned factory worker to becoming a writer and journalist in English.
Lijia Zhang is a role model for women across China and worldwide. At 16, Zhang's mother dragged her out of school, sold her textbooks and forced her to take a job at a local factory producing intercontinental ballistic missiles so she could contribute to the family income. Watching her dream of studying at university dissolve as she spent her days checking pressure gauges among a roomful of condescending older men, she may have resented her position but Zhang knuckled down to work nonetheless.
Frustrated by her limited opportunities as a young woman in a male-dominated industry, she taught herself English and got a degree through the factory programme. That was just the start; her determination and courage never failed.
Zhang says there has always been a rebellious streak in her: as a young woman she read Jane Eyre hidden within the folds of The People's Daily; spearheaded a factory walk-out in support of the Tiananmen Square demonstrators in 1989; and is now a public speaker and an advocate for women's rights in China.
Lijia Zhang appears annually at the Beijing Literary Festival, where she recently appeared to discuss women's rights in contemporary China.
Defiance: Xiao Tie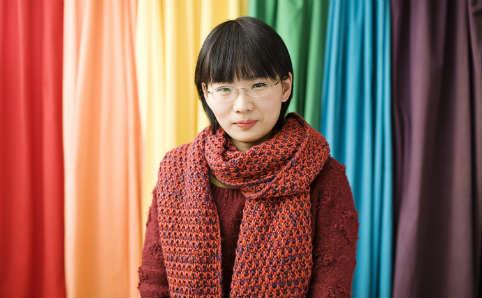 (Image via)
Thirty-year-old LGBT activist Xiao Tie is the director of Beijing's LGBT Center and one of Beijing's most prominent young figureheads. Her campaigns for LGBT rights have gained international attention, most notably those protesting 'gay conversion' treatment, that is still a widespread problem in China.
Xiao Tie's demeanour is bright and her humour infectious, but it's clear she's struggled with gaining authority and respect in her work. Even in her industry, Xiao Tie feels the pressure of gender bias on her appearance.
She has recently changed her hairstyle to look more 'feminine' and 'serious', so she will actually be treated as the director of the centre she founded. Xiao Tie humorously admits that she's been told she suffers resting bitch face, but that it is somehow appropriate: two other organisations she works with are Beijing Bitch and Slut International.
Xiao Tie was due to speak at a Women's Day panel event on Saturday 12th March, as part of Beijing's annual Literary Festival, discussing women's rights around the world. That morning, she got a call from the police telling her not to go. She went. Xiao Tie was intercepted outside the venue, and told she would be detained if she tried to join the activities indoors.
Two weeks later, she and her two best friends, Wei Tingting and Fan Popo, dominated the same space for a LGBT panel discussion of the tumultuous year that was 2015. They had no qualms about expressing their defiance of the authorities, despite having first hand knowledge of the consequences: Tingting was one of the 'Feminist Five' detained for 37 days in March 2015. These three know precisely where their activism could lead, but they keep coming back for more.
'I thought this incident would be the end for us young, female activists. But the reaction has started an era of magnificent, new activists. They cannot catch all of us and block us all.'
Wei Tingting
Curiosity: Xinran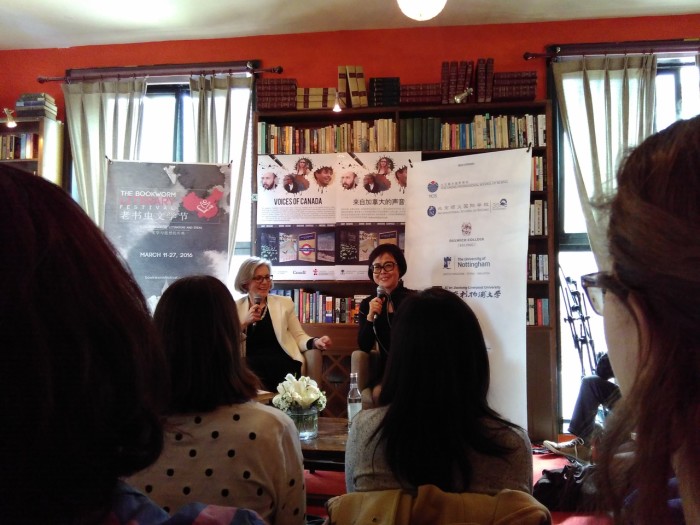 (Xinran with Laurie O'Donnell at the Bookworm Literary Festival, Beijing, 19th March 2016. Photographer: Sven Romberg)
Xue Xinran, 58, gained China-wide popularity in the nineties with her radio show 'Words on the Night Breeze' (1989-1997), which focused on women's issues and voices. She became known for travelling widely across China to meet her interviewees, and later began to write the stories of the women she'd met along the way.
Xinran moved to London in 1997 where she worked at SOAS, became a regular contributor to the BBC and Guardian, and fought a mugger who tried to steal her laptop containing the only copy of her first manuscript. Xinran is a public speaker, advocate for women's issues, and the founder of The Mothers' Bridge of Love, a charity aiming to change adoptive and birth culture in China.
While Xinran's life experience is fascinating in itself, the stories she retells about the women of China are unparalleled. Her first book, The Good Women of China (2002) became an international bestseller and has been translated into thirty languages.
Subsequent books have told the real-life stories of one Chinese woman who went alone to Tibet in search of her missing husband and came back a devoted Buddhist, the uneasy relationship between China's migrant workers and the cities they flock to, and the heartbreaking narratives of mothers who have lost or had to abandon their children. Her latest book focuses on the only children brought up under China's one-child policy.
Not only has Xinran's belligerent curiosity brought these stories to the fore, but she has given a voice to hundreds of women whose voices had previously gone unheard – given them a voice loud enough to be heard worldwide.
Sisterhood: Xiao Meili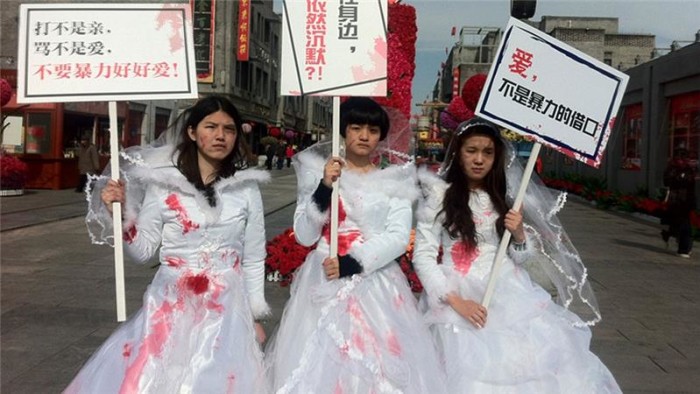 (Image via)
Twenty-something Xiao Meili is a Chinese women's rights activist whose campaigns in recent years have gained international media attention, challenged the Chinese authorities and landed some fellow campaigners in jail.
Xiao Meili's best known campaigns include her 2,000km walk from Beijing to Guangzhou to raise awareness of sexual abuse in 2014, and her protest against domestic violence in 2012 that saw Xiao and two friends wearing bloody wedding dresses in public on Valentine's Day. She is the mastermind behind the Chinese 'this is what a feminist looks like' t-shirts, which she sells on her Taobao site (Chinese e-bay), and the 2015 campaign in which women posted pictures of their hairy armpits on Sina Weibo (Chinese Twitter).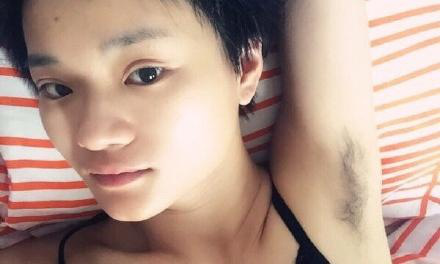 (Image via)
Last year, she and friends began a new campaign just days before International Women's Day on March 8th. They simply wanted to distribute fliers on Beijing's public transport. On March 7th, seven of the campaigners were arrested, five of whom were detained for 37 days.
Although she organised the campaign, Xiao Meili was not one of them. She was allowed to go. She could have kept quiet and safe, but instead spoke out against the Chinese government, posting a picture every day for the duration of her friend's detention, drawing attention to their plight. Not for a moment did she consider abandoning her friends, whatever the consequences. She stood by her fellow women and showed China the real meaning of sisterhood.
All of these women, young and old, have drawn inspiration from the west or cite the western feminist movement as a source of powerful ideas. So, if ever you're in doubt of where the feminist movement is taking the world, look to China for a reminder of how women worldwide are fighting for equality.
If you enjoyed this post, why not check out 'On Sisterhood: Why Fortune Favours the Sister-less Child'?
---
---
Tags: Chinese women Feminism Lijia Zhang Women's History Month Xiao Meili Xiao Tie Xinran

Categories: Empowerment: Man! I feel Like a Woman! Wise up!