April 6, 2016 - Written by: Shiraz Engineer
Since I can remember, meat has always been my favourite part of any meal. Sausages with breakfast, chicken in my sandwich for lunch, and large chunks of succulent spicy lamb sitting proudly atop fluffy rice for dinner – I love it all. So much so that whenever someone would playfully suggest that I try being a vegetarian, I would tell them 'I'D RATHER DIE, THANKS'.
I would even think twice before dating a vegetarian, such was my extremeatist attitudes (geddit?? Geddit? No? Didn't work? Okay… Moving on…).
But as you know, treasures, 2016 is my year of being UNSTOPPABLE. In my first post of this year, I publicly pledged a few resolutions and I'm pleased to say I'm very much on track! Fitness increase? I'm currently working my way through T25 (that Shaun T is adorable, but also highly punchable). Learning to drive? Already had eight lessons and going steady.
The next thing to sink my teeth into was the Meat-Free Month Challenge. Lately, I'd been feeling sluggish and I wondered if it was meat that was doing this to me. I'd never had this feeling before but I knew I wasn't entirely comfortable with my reliance on meat being the basis of every meal I ate, and not being willing to branch out to go veggie for a change, ever. It felt like an addiction I had to overcome.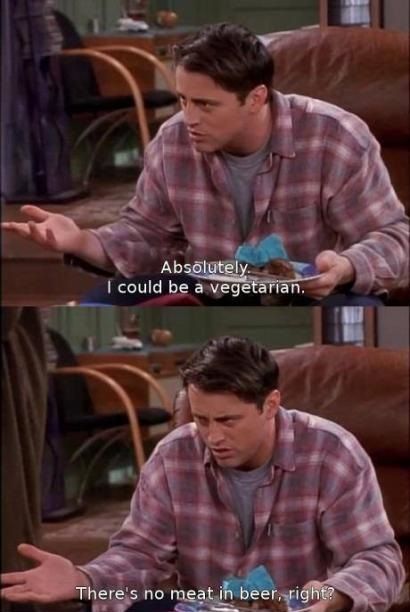 (Image via)
The aim was to challenge and discipline myself, think about food in a new and healthier way, and raise some money for charity in the process.
I set up my JustGiving page and within 24 hours had already raised £150 for The Trussell Trust! A true sign that all my friends and family had a good idea of how difficult this was going to be for me. But this also meant that I couldn't possibly back out of the challenge that lay before me – no meat, seafood or meat substitutes like Quorn or soy products, for a whole month. Just good old-fashioned vegetables, pulses, eggs and cheese. So much cheese, in fact, that in preparation for my Meat-Free Month, my first intentionally-vegetarian food shop included a total of five different types of cheese. Oh yes. This was going to be hardcore.
I could go on and on telling you what I learned during this month of sacrifice, but to make sure this stays on the short side, I can separate my Meat-Free Month experience into three different categories: observation, body and mind.
Firstly, observation.
Meat-free options were always available but drastically limited in fast-food outlets, supermarkets and especially pubs. I had forced myself into a position where I could only choose between one or two things on a pub menu. Such discrimination! No wonder I had an obsession with meat – it's not just me, it's society. We enjoy freedom of choice, but disregard the few of us who have made mostly-ethical dietary adjustments to our lives. Suddenly I was on the other side of the fence looking down at a sparse selection of items and felt weirdly trapped.
Another observation was that I felt like a bit of a burden on society now. Family, friends, restaurants… I was on the 'difficult' side of the culinary world. I had broken ranks in my usual meat-eating circles and there was one instance where I had to manually pick slivers of bacon out of my dinner at home. That was bloody hard, I tell you – it's one thing to have something vegetarian put in front of you, but when you have to physically make it vegetarian yourself even when you don't want to, it's like climbing a mountain. With a Lidl Serrano ham on your back. And no possibility of getting even the smallest lick.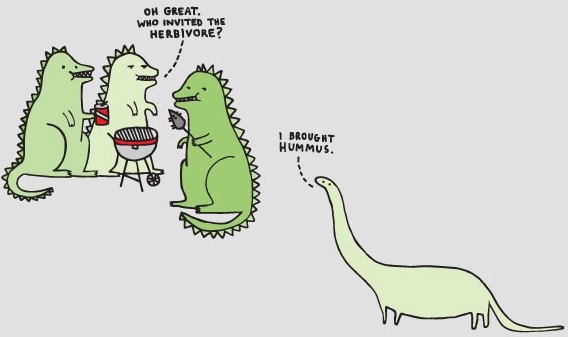 (Image via)
Secondly, body…
This is where the fun happened! There was no change in the first week. Come the second week, however, I suddenly felt a lightness I had never felt before. I felt more buoyant, freer and had more energy. I went to Zumba for the first time in ages and only stopped for 30 seconds after forty-five minutes of rigorous shape throwing. What a difference! I could do everything I normally did, but even better! I was loving this physical change in my body and revelled in it every day. Shiraz 2.0, if you like.
Lastly, mind…
As you can imagine, this was the most significant category. My mind went through all sorts of changes and it was utterly fascinating. A sneak peek at my online updates will give you a good idea of what I was thinking:
Day 2
Last night the carrots went down well. No cravings. Today, however, I have to go to another work commitment at a school that puts on a supper. Last time they had lovely little chicken goujons. Now I can't stop thinking about them…
Day 4
Last night, went to bed considering what it would be like to go veggie permanently and thought of all the things I'd miss – Nando's chicken, Shake Shack burgers, juicy steak… But this morning, the thought of chicken made me feel strange. Exciting stuff going on!
Day 16
I really want some chicken today. Crispy on the outside, soft on the inside… Mmmmm… It's still my default not to eat meat, but I could go for some chicken…
Day 17
Chicken chicken chicken chicken chicken chicken chicken chicken chicken chicken chicken chicken chicken chicken chicken chicken chicken chicken chicken chicken chicken chicken chicken chicken chicken chicken chicken chicken chicken.
Day 22
Still want chicken…
And so on.
But towards the end of February, whenever I visualised eating meat again, I felt strangely intimidated. Had this challenge given me some sort of meat complex??
By the time 1st March came around and I was ready to break my meaten fast with a Nando's Lemon and Herb chicken leg, I was nervous. Would it taste the same? Would I enjoy any of it? Had I inadvertently turned myself into a vegetarian and would I ever again be able to savour the charred, juicy, sweet sensation of a medium-rare steak?!
Turns out the answer was a resounding YES. Because although I had raised £350 for The Trussell Trust and pushed myself in a way that I couldn't have dreamt of even a year ago, I still loved eating meat. The difference was that after a month of no meat, I had released myself from it as a daily culinary crutch. I had learned to eat more colours and natural flavours, and fewer processed foods.
My weekly grocery haul now has significantly less meat in it and I'm even sticking to some of my new-found vegetarian favourites, like cauliflower cheese grills, and green beans. I feel better knowing I can be disciplined enough to do something good for my body and myself.
Now, time to break open that new chorizo… Er, I mean celery…
Have you ever given up something you thought you couldn't live without? What happened? Share it with us!
If you enjoyed this article, why not check out: 'Unstoppable Me – How I'm Going to Own 2016'?
---
---
Tags: food happiness Health Joy self help success

Categories: a little piece of joy Empowerment: Man! I feel Like a Woman! Mirror Mirror: Self Improvement