April 15, 2016 - Written by: Katie Fanthorpe
Last summer I made a somewhat daring decision. I'd almost come to the end of my BA in English Literature and I was starting to think about what I might want to do next. Although lots of very sensible options came to mind, I couldn't stop thinking about my writing, and how little I'd felt I'd achieved with it over my BA.
Idly I browsed through my University's MA course list and suddenly I knew what I wanted to do. There it was in front of me, an MA in Creative and Critical writing. This was going to be it, a full year in which I could actually develop some of my written work, or so I thought.
The reality of the situation has been a little different. I started in September feeling vulnerable and anxious. Something in me really wasn't ready to show lots of people my work. Most of all, I wasn't ready to be judged.
So, I wrote some small short stories whenever we were asked to present, but my poetry stayed well hidden. When I finally did show my poetry a few months later, I chose the smallest of my poems, and the safest. What was happening to me? Didn't I want to improve? The worry of being criticised was weighing me down and impeding any progress.
So in my head, I created a list of things to help me get through times when I'm feeling vulnerable and open to criticism. Sometimes you have to face home truths, and here's how to deal with it when it happens:
 1. Take it all in. 
If someone is taking the time to properly engage in your work, no matter if that response is negative, listen carefully to them. It's a real compliment to have someone take enough time with your work to be able to respond to it. Don't clam up upon hearing the negatives, just take it all in.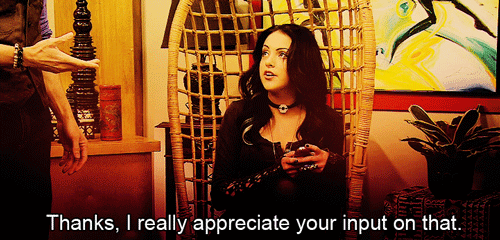 (Image via)
 2. Push for more. 
So this person is responding to you, but you feel like they're still being polite, what do you do? Push them on topics they seem to be skirting around, ask them questions and point them towards parts you think might be weak.
It may hurt at the time, but get all the information you can while that person is responding to you. You could learn a great deal.
(Image via)
3. Let yourself feel the bad emotions. 
Last week I came out of a criticism heavy meeting feeling fantastic, and five minutes later felt awful. When you care about your work, it's really hard to hear someone put it down or pick at it. It's alright to feel a little disappointed, but don't let it stop you from carrying on and working on it. Rome wasn't built in a day!
4. Fire up. 
In fact, you should let the criticism motivate you. Once you've got those sad feelings out of the way, return to why you wanted feedback in the first place. If it feels like the criticism wasn't totally fair or right for you, let it fire you up. Any kind of criticism, whether just or not, can be a great reason to get back to the task at hand with a lot more energy.

(Image via)
5. Work on it
When someone dislikes a poem I've written, I let myself get angry about it, and then I write more. Let criticism be the fuel you excel on.
This applies to creative projects and day-to-day work. Let the feedback bring you back to your desk or drawing board, where you started, a little stronger.
Criticism is really vital in order to improve and grow. Flinching away from it is sometimes the worst thing you can do. I hope these steps have helped you think through the process of receiving criticism and may encourage you to be brave in the future. Thanks for reading!
If you enjoyed this post, why not check out 'The Liberty of the Second Sex'?
---
---
Tags: #girlboss courage success taking criticism

Categories: Careers Katie Fanthorpe Mirror Mirror: Self Improvement Wise up!