May 23, 2016 - Written by: Yazmin Joy
I have two great fears: childbirth and murderers.
Both involve (probably) pooping myself and (maybe) death. This blog is about the latter.
Trying not to get killed is something I think about a lot. It's a fear that I believe originated from unsupervised true crime marathons when I was a kid. And the fact my mother regularly calls me to question whether I am successfully dodging things that might kill me. Questions like 'Are you walking to that place on your own?', 'What time are you coming back?', 'That's great, but how long had that sandwich ACTUALLY  been there for?'
As you can tell, I live on the edge.
PYPO created this apt reconstruction – aherm I mean comedy video:
Hoods make me nervous.
Not as in gang territories, but more the kind you find on sweaters. If it's not raining or cold or you're not hiding from CCTV then WHY is your hood up? Real question.
I once called the police when a suspicious looking man rang my door bell and started pacing up and down my front garden moving my bins about.
It was only when the four man armed police squad vacated my property did I find a delivery of cardboard boxes addressed to my housemate carefully nestled behind my recycling bin.
To the most wanted delivery man in Highbury and Islington – I'M VERY SORRY. (It was after 8pm and you weren't wearing a uniform.)
The tube.
Confined. Underground. It already can get a bit Lord of the Flies as it is on a hot summer commute home. But in today's political climate, the western world seems on edge. The thought of terror attacks might send a prickle down your neck.
I realise how silly and ignorant this can sound. I know that there are brave people in the world living in dangerous political and civil unrest – who legitimately risk their lives every damn day. I know that my risk is incomparable when I jump on the tube during rush hour. My courage is unparalleled. But I don't think it's cowardly to admit the fear is there.
Is this fear a natural survival strategy or a cultural manifestation?
Sometimes I wonder if my mother would ask me whether I was alone at home if I was a boy. If she would worry about me getting back late if I was physically stronger.
I sometimes wonder whether fear is attached to my gender. That maybe daughters are taught to be fearful because throughout civilisation women have, and continue to be, persecuted and marginalised because of their sex.
We are taught to check the darkened corners of our house when we get home at night. We carry flats in our handbags on the way home from the club incase we need to RUN. Girl-dodging-death is a film genre I have studied well.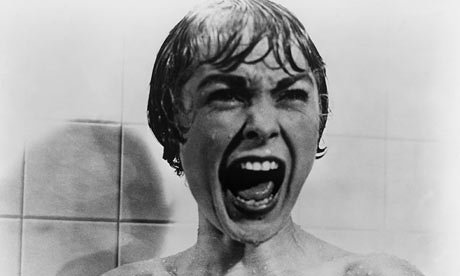 (Image via)
I discovered last year that the number one fear for young women in the UK was rape. Do you know what the number one fear for young men is? Being laughed at.
In the UK a women is raped every 6 minutes. So maybe the fear of being attacked isn't just paranoia alone.
But in writing this I want to acknowledge there is good fear and there is bad fear. 
Bad fear holds you back and creates doubt and shame. Fear might check the oil and test the breaks but in the words of Elizabeth Gilbert: 'you [fear] are forbidden to drive'.
Then there's good fear. Good fear sharpens, propels and strategises. Good fear has a war cry and faithful ally whose name is Courage.
So when I feel a bit paranoid, and weigh up the chances that there may be a murderer behind my shower curtain I do what any sane person would do, I get a bat and get my brave on. And then I go to bed. See! I'm working on this fear thing. 'nuff rambling.
Have a great week peeps.
If you enjoyed this post why not check out 'The 5 Stages of Accepting and Learning Criticism'? 
---
---
Tags: bravery Elizabeth Gilbert Everyday Sexism fear Feminism Joy PYPO

Categories: Empowerment: Man! I feel Like a Woman! Fire me up baby! From the Heart Mirror Mirror: Self Improvement Yazmin Joy