April 29, 2015 - Written by: Sana Sarwar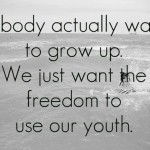 I am so frustrated over the many times that people just cast me to the sidelines, because APPARENTLY I'M TOO YOUNG. In other words they think I am incapable of doing anything simply because of my age. It's like a silent way of saying; 'no, sorry, you're too stupid to understand'. It's not like I'm a five year old who... Read the rest of this post...
Categories: Fire me up baby! From the Heart Mirror Mirror: Self Improvement Rant Sana Sarwar Wise up!