July 24, 2015 - Written by: Sana Sarwar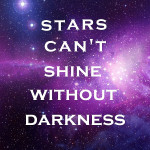 You're tired, stressed and fed up of trying. You feel like you're getting nowhere, and that life has kicked you in the shins. I know I often feel like that at the worst of times and just want to give up. You have no reason to feel so down other than the feeling of getting nowhere. You have support from... Read the rest of this post...
Categories: a little piece of joy Empowerment: Man! I feel Like a Woman! Fire me up baby! From the Heart Mirror Mirror: Self Improvement Sana Sarwar Wise up!