November 11, 2014 - Written by: Ria Cajee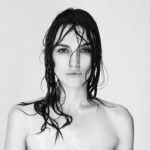 Okay, I've had it up to HERE (reaches as high as her 5'2" will allow) with people championing 'Zero is Not a Size' t-shirts*. *An American size 0 is equivalent to a UK size 4. Please don't get me wrong, I don't agree with the fashion industry's insistence on only using models that are over 6 foot and utterly skin... Read the rest of this post...
Categories: Empowerment: Man! I feel Like a Woman! Fire me up baby!