May 29, 2016 - Written by: Poppy Gillian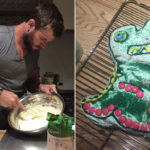 Recently I read an article about Chris Hemsworth baking his daughter a birthday cake. In fact, there were numerous articles about it all over the internet, here's an example. The cake did look pretty good and better than anything I could ever bake, but I don't get what all the fuss is about. Chris Hemsworth is hot, talented and famous,... Read the rest of this post...
Categories: Empowerment: Man! I feel Like a Woman! Fire me up baby! Poppy Gillian Rant Wise up!