August 20, 2014 - Written by: Beth Teverson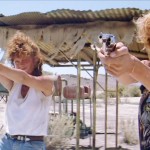 So I watched Thelma and Louise for the first time the other day. I already knew it was a big hit, having won a huge critical acclaim. I even remembered it being referenced in the past was a parody episode of The Simpsons when Marge goes on a similar journey with next-door neighbour Ruth. (Image via) And of course the... Read the rest of this post...
Categories: Beth Teverson Empowerment: Man! I feel Like a Woman! Fire me up baby!