October 1, 2015 - Written by: Shiraz Engineer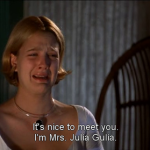 Treasures, we've reached the end of the wedding season, and something's just not marrying up in my mind (marrying? Geddit? I slay me). This summer, I couldn't check my Facebook newsfeed at the weekend without a friend's wedding pictures appearing. As I admired the dresses, the happy couple and the 'doesn't she look beautiful!' statuses, my eyes always wandered over... Read the rest of this post...
Categories: Empowerment: Man! I feel Like a Woman! Love & Relationships Rant Wise up!