March 30, 2016 - Written by: Cas Sutherland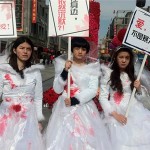 What a month this Women's History Month has been! Living in China, it's often easy to feel some level of disconnect from the fourth wave feminism of London or New York, but this month in Beijing has reminded me that women all over the world are fighting for the same thing: equality. Just because they don't get to vote for... Read the rest of this post...
Categories: Empowerment: Man! I feel Like a Woman! Wise up!