January 24, 2017 - Written by: Guest Blogger
Words by Samia Meah
I was five when my father died and we lost everything. I know everyone says that, but he really was. Up to that point he had been our family's sole-breadwinner, our cook and cleaner. We struggled to cope without him and things at home quickly deteriorated. Soon after his death, I became a victim of abuse and neglect at the hands of both my mum and brother.
I was on the child protection list, I had numerous social workers and I was a young carer. But my good grades at school meant nobody noticed when I wasn't there.  Ten years ago when I needed to leave my family home, I had almost no idea where to turn for help. Luckily, I was referred to Centrepoint, the youth homelessness charity.
I arrived at Centrepoint just after finishing my GCSE's and I went on to live the life I'd always dreamt of.  I now work at their head office, on the Evening Standard Christmas Appeal.
So, what was it like photographing HRH Duke of Cambridge in his own front garden at Kensington Palace?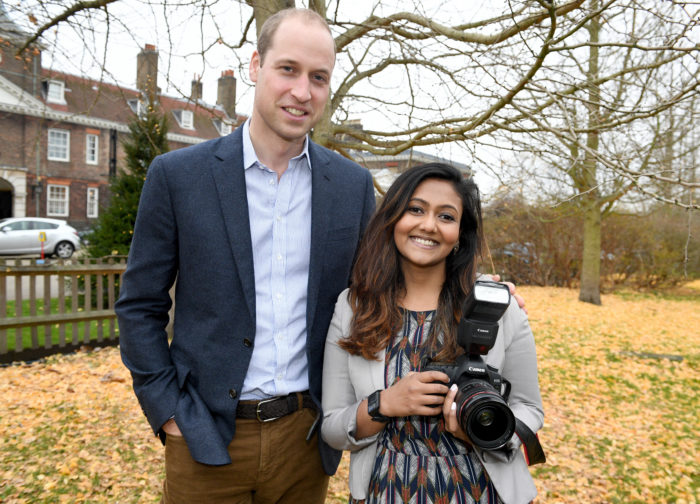 (Photo by Jeremy Selwyn, Photographer at Evening Standard)
It was kinda cool, definitely nerve-racking, but also felt very normal.
I walked in to my first board meeting for the Evening Standard Partnership with Centrepoint. Just before stepping into this meeting I had been told that I actually had a fulltime gig with this media campaign (I thought I was only doing a bit of overtime, since I was employed elsewhere in CP), so as you can imagine it's all been a bit of a mad whirlwind.
I sit down; my new boss tells me I'm taking the minutes. I smile at my boss but my brain panics as I'm used to touch typing. Without my laptop I thought I'd surely fail—I can't hand-write fast enough! Turns out I could.
Then the editor of the Evening Standard sits next to me (HELP) and then asks me what I think. ME? WHAT I THINK?!?! I'm usually mopping floors or taking orders. Nobody ever asks me what I think. I'm not used to this.
'Eeeer… well I'm about to complete my MA in Photojournalism. Why I don't I photograph William at his house?'
'That's fantastic, I love it!' replied the ES editor. Other people in the room chime in to agree.
I said something like, 'Okay, cool.' But I was thinking WTF? Is this life?
Fast forward a couple of weeks and I'm standing on the grass at Kensington Palace. I've practiced and set-up my camera. I've spoken to the Evening Standard Staff Photographer who encouraged me. HRH was delayed in a meeting, I was pacing and waiting.
Imposter syndrome was setting in; I was scared I would mess it up even though I've been taking photos for over a decade. The only way to succeed was to tell myself this was just another picture—Just like the portraits I've taken of previous clients.
And that's how it went, like any other 10minute slot for a portrait.
We asked William's staff if there were any limits to what I could ask of him, and they said no. I could direct him however I wanted. The photo would also include Evgeny (the Evening Standard's owner) and Kumba (a Centrepoint ex-resident), so it was a group thing.  I don't know if this made things more difficult or easier, but it certainly helped when I asked them to speak to each other.
I wanted a natural shot: natural light, natural body language and not posed at all. That's how I like to shoot, and hell, this was my 10 minutes.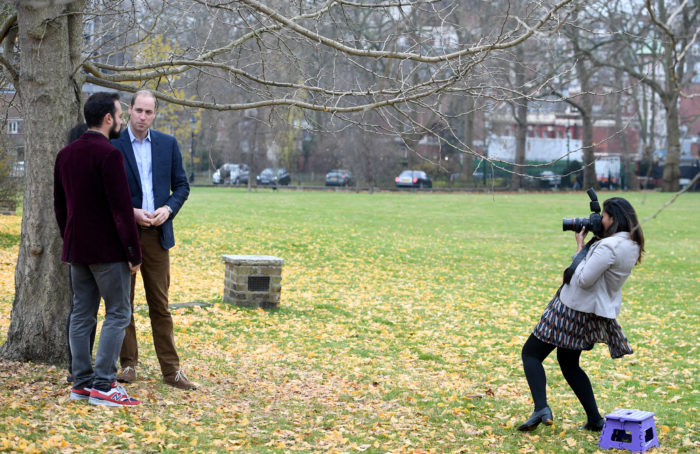 (Samia in action. Photo by Jeremy Selwyn, Photographer at Evening Standard)
William told us about how the American tourists like to sit along his fence, and how they're planning to put a hedge in to prevent it from happening again. He also asked if I could keep his cousin's scooter out of shot.
I was then asked by the ES Photographer to jump in a photo with William. He turned and said to me 'We've been in so many photos together already.' Yes, yes we have. He wished me a Merry Christmas before moving on to his next meeting.
We then walked to Derry Street, Evening Standard's head office. It was there that I was asked by Evgeny to send over my images ASAP so he could choose which one would go in the paper. Working from there was a dream in itself, and when the journalists opened up my image files on their laptop they said 'These are beautiful Samia' I sighed a HUGE sigh of relief.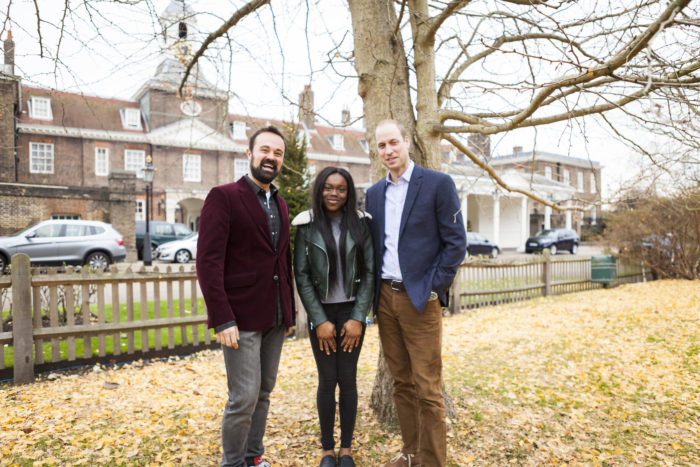 (Evgeny, owner of Evening Standard, Kumba, Centrepoint Ex-Resident,
and Prince William. Photo by Samia Meah.)
A few days later Evgeny's chosen photo was in the paper, with my name underneath it.
And then I was live on BBC Radio, twice! I had industry people tweeting me and following me. I had people from my past trying to message me on various platforms. I even had strangers ask me who I am and what I do.
The fame has died down now (and I'm glad). I feel like I'm left with a good platform to move forward from. I've never been in a place like this before. It feels good.
If you would like to find out more about Centrepoint, the youth homelessness charity, click here.
To find out more about Samia and her work as a photojournalist, click here  or send her a tweet!
---
---
Tags: Centrepoint Evening Standard inspiration photography Prince William Samia Meah youth homelessness

Categories: a little piece of joy Careers EXCLUSIVE: Interview