October 31, 2011 - Written by: Yazmin Joy
 So I had a bit of a meltdown this week. I actually went slightly AWOL. I almost broke down into tears at uni – a complete mess… And now I feel like a giant penis. So here's the story…
I am a bit of a Take That fan and I am unashamed to admit that I have recently been fairly aroused by Gary Barlow's appearance on the X Factor. Talented, handsome, rugged. Yum!  
So when I found out that Gazzer was doing a solo gig at Royal Albert Hall I literally stag leaped at the chance to see him in concert. What's more he was being supported by the The Pierces (one of my favourite bands at the moment).
I decided I had to have tickets.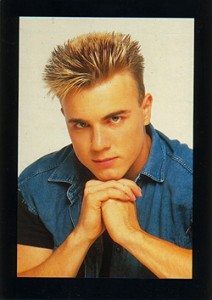 (Corrr look at that hair!)
STRATEGY
I begged a mate to agree to come along with me, phoned up the box office to confirm details and devised a fool proof strategy. The booking office opened 9 am on Friday. Damn Friday! I have a 9am lecture every Friday.
I considered missing my lecture but Jiminy Cricket gave me a tickle and I decided better of it. I would get my mate to go on the online booking first thing on the morning tickets went on sale while at the same time appoint my father (the legend that he is) to attack, I mean, phone the booking office.
I debriefed all that were involved a couple of days before. Barlow fans were known to be fierce so I knew that appointing the big guns were vital if I even had a chance of seeing the sex god in action.
BATTLEFIELD
On the fateful morning my plan was already beginning to fall through. My friend had fallen very ill – a part of a long running illness and I hadn't the heart to wake her. I promptly called my Dad at 0820 hours to explain we were one man down…. 'start calling at five to nine Dad, got it, five to nine!'  'Yes got it' he replied reassuringly. I went off to my lecture, satisfied that whatever happened I had recruited the one person who wouldn't let me down.
As soon as my lecture ended I called my dad.
Me: (sweating) Hi.
Dad: Hi, any luck?
A red flag goes up. My heart starts to race.
ME: Any luck with what?
DAD: (confused) Any luck with getting tickets?
ME:  What do you mean? You're supposed to be getting tickets.
DAD: I'm just moving a pool table.
ME: (WHAT??) What do you mean you are moving a pool table?
DAD: I'm at work.
ME: Why aren't you on the phone? You're supposed to be phoning the box office. Why aren't you calling the box office? DAD!? I thought I told you. You need to keep calling them. Why are you at work. I thought you said you were free. WHAT THE HELL –
The phone went dead. He put the phone down.
Next thing I know I get an arsey text:
I tried my best. I'm sorry you feel it wasn't good enough. I have twenty logged calls, that's 1 every 3 minutes. I am sorry I hung up although I am your dad I am not a verbal punching bag. Lots of love x
I found the last bit particularly patronizing.
I exploded into a blind rage with the following diatribe:

I have not sworn, called you names or been rude to you in anyway. Verbal punch bag? Me telling u that u got it wrong is not a personal attack it is just a reality. I thought I had made the urgency of calling in clear.  I had to call 6 times in 1 minute to get through. That is how competitive it is. 20 times is literally nothing to Barlow fans. Not being funny but for someone who puts on events for a living do you not understand this??? Legit question.  I thought u understood that. Absolutely ridiculous, instead of taking responsibility for the fact you didn't understand u are making me feel like shit. I would have understood if you had said 'so sorry but I'm too busy' but the reality is you didn't listen or understand the importance of this for me and what I asked u to do. Actually unbelievable you put the phone down. I love u but as usual you never present any sense of urgency in anything other than your own interests. Not verbal bashing. FACT. Please don't speak to me for a while because I have to get on and us talking about how you are hard done by is counterproductive, draining and useless. Respect is not given to people, it is earnt. How does putting the phone down on me earn any respect? Ridiculas. *
 (*I have literally copied it word for word. This is not a joke. Literally the longest text I have ever written)
BOMBSHELL
Later that day I pathetically dragged my forlorn ass back home. As I entered the flat my mate (the one who was ill) came rushing in hysterically, tears streaming down her face. One of her friends had been hit by a lorry that morning and pronounced dead on the spot. And there it was… reality. Suddenly I felt very ashamed.
There I was having a full on tantrum about gig tickets when someone somewhere had had their life snatched away from them.
I spent the afternoon trying my best to support my friend. She was distraught and in the middle of her breakdown she apologised for not waking up in time to book the tickets. Tickets for what? – Oh those!
AFTERMATH
 It was one of those profound moments when you realize what a douchebag you are.
I called him up ready to apologize but I could hear his chuckle as he answered. I think he found the whole thing funny. I can't believe I was such a bratty little shit. I have been thinking and if I wanted tickets that bad I should have just called up myself.
GETTIN' PHILOSOPHICAL
I am not saying we shouldn't get mad or that the little things don't matter. I don't think we should be ashamed of sometimes flying off the handle. But saying that, I realised that day how insignificant my problems are.
I didn't beat myself up about it but instead realised if my biggest problem at the moment is missing out on Gary Barlow in concert then I am one lucky son of a gun.
Maybe God was teaching me a valuable lesson in appreciating what I have instead of what I don't.
And let's face it while I might not have Garry tickets but I will always have the cheese-tastic tunes and outrageously homo-erotic videos of my favourite boy band at my disposal whenever I want thanks to YouTube.

I didn't know how to finish this long winding sermon and so I figured I better leave it to the pros.
Hope you enjoy!!
Have a great week all.
x 
---
---
Tags: boy band Gary Barlow Joy Take That X Factor

Categories: Cringe Factor Rant Yazmin Joy