January 25, 2016 - Written by: Yazmin Joy
Do you ever get the sneaky suspicion that your own body is trying to kill you?
Forget about the carefree Tampax models frolicking in summery skirts and diving dolphin-like into a crisp oasis pool. I wish. Unless you are one of those the nimble nymphs of womanhood who only bleed a thimble on your period – you are probably banded with the rest of us she-bears who are just trying to get through the week without murdering someone.
The sweating, the cramps, the suppressed tears, the actual tears, the tiredness, the pimples, the anaemia… We are losing blood here.
This is the reality for many-a-lady. And it ain't pretty.
Uninhibited-Yeti-Pill-Popper is probably a more accurate description of me when Aunt Flo is at the door. As I waddle around my kitchen swearing to myself like an 18th century sailor in my jams and what can only be described as an 'adult nappy', which, I admit is a bit excessive, but was worn in a good natured attempt to protect my own knickers. Homage to the unsung casualties of menstruation by the way – nice knickers. It's like a bloody murder scene down there. And yes, I find it gross too.
The average woman will spend 6.2 years of her life mopping her own blood, costing us an average of £10,814.27 each in our lifetime.
(Note: Earlier I mentioned 'pill popping' – I, of course mean Nurofen not drugs. I don't do 'drugs' just to clarify, if the kids from the youth club are reading this.)
Apparently, according to someone I met the other day, menstruation is one of the reasons why women live longer than men – something to do with heart rate, circulation, blood… I wasn't really paying attention because I was more concerned about why I couldn't rip open my KitKat Chunky with my teeth.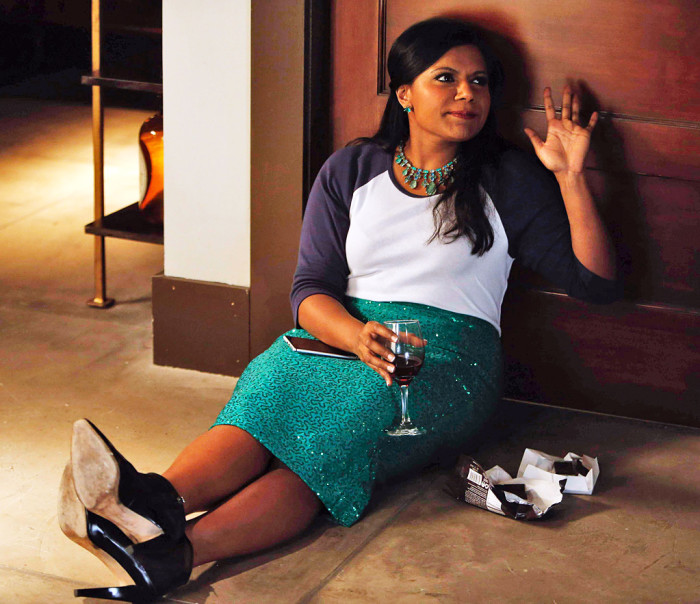 (Image via)
I would go so far as to say, that for many of us, it's like going to war with your own body.  Because, if you haven't guessed by now – YOUR BODY WANTS YOU TO DIE.
When you're in the midst of war you must be a warrior – otherwise society will judge you and hate you and bitch about you on why you shouldn't become the first female president of the United States.
Behold the conundrum of the modern woman: How do we face the (sometimes unpretty) reality of menstruation without it affecting our ability to function, or, undermining our ability to lead, in the working world?
It's hard sometimes. Really hard. We all have to function, life must go on, we must brace ourselves, conceal the acne and continue to march, even with the adult nappy.
Yes, I might want to throw this stapler at you. No, I'm NOT 'over-reacting' – it's just that my bullshit taking abilities are not at their usual advanced capacity because, in other news, I've just figured out my lady bits are actually plotting to ASSASSINATE ME. Okay, I might be over-reacting. Can I have wine now?
But, while we're on the subject of rationality….
'Men have hormones too, you know!' as one of my girlfriends pointed out at the weekend. This is true. Because women bear such obvious physical symptoms of bodily changes, we might be fooled into thinking that being hormonal is just a woman thing – when in fact – it's a human thing.
Testosterone drives behaviour too. But when was the last time you heard someone go: 'Hey Jeff – you're a bit agro today – testosterone getting the better of you buddy?' 
If I complain will I be seen as weak? If I take a sick day am I failing? If I get mad am I going to get bitchslapped by 'Are you PMTing?'
As much as I hate to admit it, my period does affect my life in a very real way. I wish it didn't, but it does. And that can be a tough pill to swallow (Nurofen!!).
As someone who wants to pursue life with all the energy and fervour one can muster, I can't help but feel defeated when my period sabotages my chances in an already competitive world.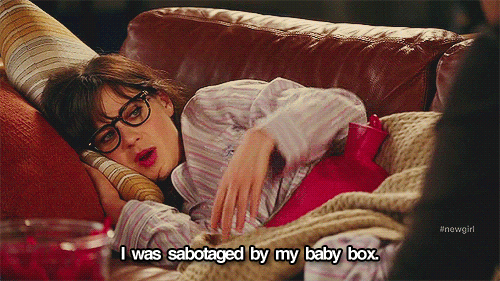 (Image via)
Ann Friedman's observation that 'acknowledging the toll that periods can take – and adjusting our lives accordingly – can feel like a feminist failure' rings hauntingly true to me as a woman.
The truth is, when the war is on, it's on. And if you can't function because coping with your own body is the only battle you can face right now, there is no shame in fighting it out on the sofa, huddled with a hot water bottle and a bag of Minstrels. No shame at all.
Have a great week peeps!
x
If you enjoyed this post, why not check our 'The Crush Chronicles'? 
---
---
Tags: aunt flo Joy menstruation periods Tampax

Categories: Empowerment: Man! I feel Like a Woman! Fire me up baby! Rant Yazmin Joy