April 9, 2016 - Written by: Guest Blogger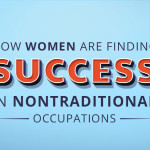 Women have been an integral part of the workforce for the better part of a century, but their efforts have largely been limited to domestic, sales, and administrative work. That is beginning to change, with women slowly beginning to enter the trade industry. Opportunities are promising in welding, HVAC, and construction, and, as this infographic Tulsa Welding School developed points out, those... Read the rest of this post...
Categories: Careers Empowerment: Man! I feel Like a Woman! Fire me up baby! Wise up!