June 16, 2016 - Written by: Shiraz Engineer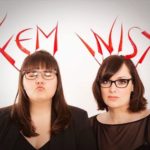 A few weeks ago on my commute, I noticed a poster on the Green Park escalator for the stage show of Whose Line Is It Anyway? and was instantly irritated by the photo of improvisational comics to appear on stage – six people, of whom one was a woman. Sigh. Oh well, I thought, it's just one show. Got onto... Read the rest of this post...
Categories: Empowerment: Man! I feel Like a Woman! Fire me up baby!